about
Hi, I'm Renee. I'm a web strategist.
I'm big on design, brand, social media, WordPress, and user experience.
I've been making

since 1996 and have helped manage large informative sites like students.ubc.ca, create light-weight web applications like call tracker for internal process improvement, and led deployment of large intranet solutions like SharePoint 2010.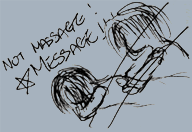 That said, I believe all the properties of technology, whether it's the capabilities, the everyday usability or the look and feel of it all serve one purpose – to host and encourage communication. And because often, as the famous saying from Marshall McLuhan goes, "the medium is the message", it is all the more important that it is the right technology, implemented and presented the right way.


I'm not a total nerd. I swear.
I also love books and movies (sci-fi and fantasy), gaming (video, board, tabletop) and arts and crafts (buttons, drawing and making pretty graphics). In my spare time I like to knit, fiddle and practice aikido. I'm also loosely tied to the geek community, helping occasionally with some event planning and web design with anime conventions and other events.
Okay, so maybe I'm a geek at least. I'll give you that one.


Here are some of the other social networks I'm in from time to time. You can also find some of the more common ones on the bottom of this page.
Why no Facebook?
My Facebook is reserved for friends that I know in real life and for casual completely unprofessional chit-chat. If you want me to add you as friend, please leave me a message on any one of the other platforms and I'll get back to you on that one.